Granite vs Quartz Countertops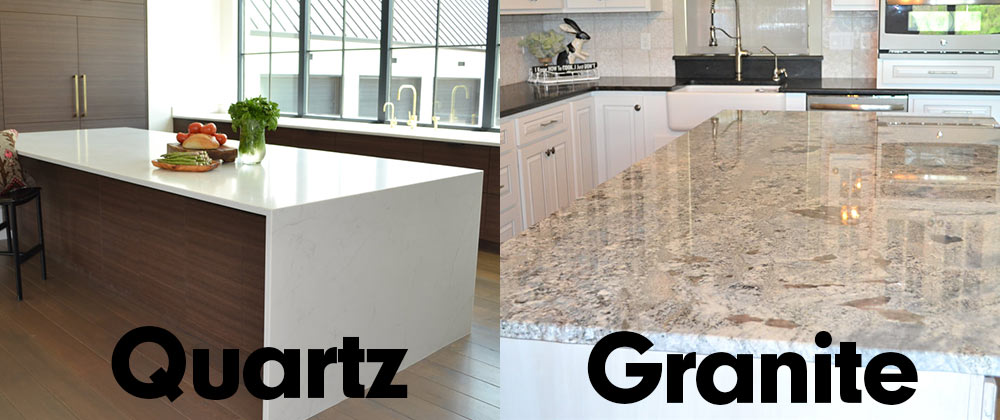 Granite and Quartz are both great choices for a kitchen, bathroom or bar countertop. Learn more about these two countertop options. The two materials are very similar in price and durability, and choosing often boils down to a few personal preferences.

Granite
Runs $45 to $250 per square foot installed
Typical kitchen in the Wichita area will cost between $1500 and $4500
100% natural stone
Scratch Resistant
Stain Resistant
High Heat Tolerance
Has an earthy, organic feel
More of an elegant look than Quartz
Patterns aren't uniform from slab to slab
Requires sealing and polishing
Slightly more maintenance than Quartz
More unique patterns and natural color variations than Quartz
Similar pricing to Quartz, though high-end and exotic Granite can be expensive
Porous, water resistant when sealed​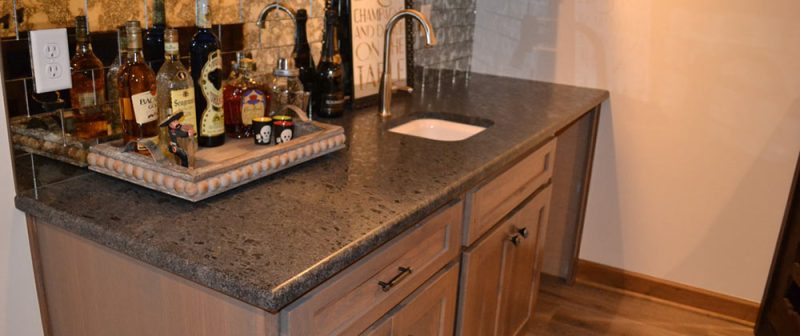 Quartz
$45 to $100 per square foot installed
Typical kitchen in the Wichita area will cost between $1500 and $2500
Engineered stone –  90-95% natural combined with polymer resins and pigments
Scratch Resistant
Stain Resistant
Good Heat Tolerance, though not as good as Granite (you shouldn't just set a hot pot on Quartz)
Harder, more durable than Granite
Doesn't require regular sealing or polishing
More of a modern look than Granite
Easier to select an match colors than Granite
Waterproof
Not for outdoor use, constant outdoor sunlight can fade Granite
---
If you're looking for a more traditional, elegant look or if you like more varied and unique patterns, you'll prefer Granite. The only cons with Granite are that you have to seal and polish the countertop about once a year, so there are some maintenance costs. High-end and exotic Granite slabs can also be very expensive.
If you want a more modern look, or countertop that require less maintenance, you'll like Quartz. Quartz countertops aren't as resilient to heat though, so you'll have to exercise a little care with very hot objects.
Pricing variations in both types of countertops occur depending how many slabs are required, customizations and the number of cuts required, edge treatments, color and grade.
Granite and Quartz are currently (2019) the most popular countertop material for new homes and remodeling projects in the U.S. Either stone is a great choice and most homeowners are very happy with their selection after they've learned which option best fits their home design, budget and lifestyle.
If you're looking for design ideas, take a look at our countertop galleries, or visit our Wichita showroom to get some ideas.