How To Clean Granite Countertops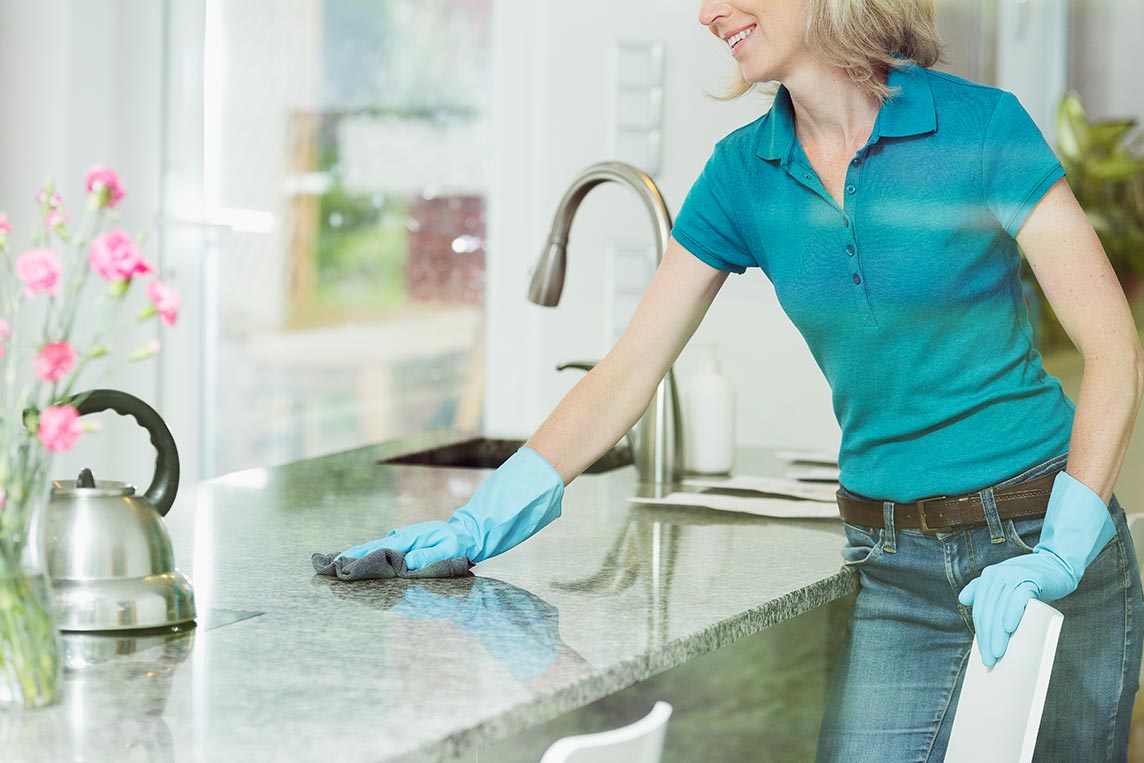 Sealed granite countertops are easy to clean, but there are a few things you should know before cleaning to help you protect your countertops.
Preventive Maintenance
First, most granite requires sealing about once a year to protect the stone from stains and scratches. The amount of time the sealant lasts can vary depending on how often use your countertops, how hard you use them and the type of sealing used. It's important to know the state of your seal before cleaning.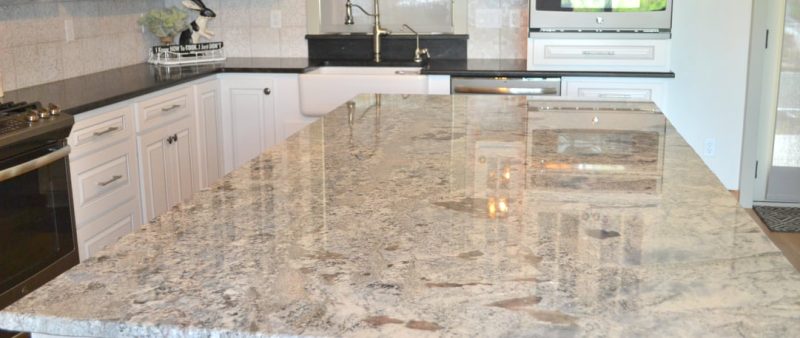 Unsealed granite or a countertop where the seal has worn off will allow the stone to absorb liquids and spills, potentially creating stains. To test your seal, put a couple of drops of water in a few spots on your countertop and wait a couple of minutes. If the water soaks into the stone, it is probably time to reseal. If the water remains beaded on the surface of the granite, the seal is good.
When it comes to caring for granite, the number one rule is be gentle. Here are the dos and don'ts:
Do
Clean granite with warm water with a mild dish soap
Use a soft cloth and scrub gently if needed
Use cleaning products designed specifically for granite
Dry and polish with a microfiber cloth or terrycloth towel
Always wipe up spills quickly
Don't
Use acidic cleaners
Use ammonia or bleach
Use Windex or other glass cleaners
Clean with rough scrubby sponges or steel wool
Put vinegar, lemon, lime, or citrus on granite
A solution of 50% water and 50% isopropyl alcohol (91% or less) can be used occasionally to restore the granite's shine.
While some commercial cleaners are okay, they may break down the seal faster. It's best to use only dish soap and water. Cleaning granite is simple: just mix warm water with a mild dish soap and wipe the countertops gently until clean. After cleaning, dry with a microfiber cloth or terrycloth towel cloth to get rid of streaks. It's that simple.
If you need to scrape something off your granite countertop, be careful. Don't use metal or anything with sharp edges that could damage the stone or sealer. Try a rubber spatula or plastic pastry scraper.
Preventive maintenance goes a long way with granite. If you clean up spills quickly, seal regularly and avoid using anything abrasive on the countertop, you can expect your granite to retain its beauty for a lifetime.
If you have questions about caring for you granite, or about new countertop installations or repairs, give us a call at 316-946-0530. We provide service for homeowners and contractors in the Wichita area.